Keypoint Newsletter: Photo Gallery & Reflections From the 50th Anniversary Gala
Our 50th Anniversary has been a time to reflect and reminisce about our past, but also an opportunity to envision our future, and what the next 50 years hold in store for Keystone Symposia. Both our past and our future are shaped by the strength of our community, and the diverse individuals that come together across disciplines, sectors and generations to collectively drive scientific innovation, insight and inspiration that is the hallmark of Keystone Symposia. Below we take a look back with personal reflections from Ralph A. Bradshaw, a key player in the organization since 1987, and then forward with a vision for the future.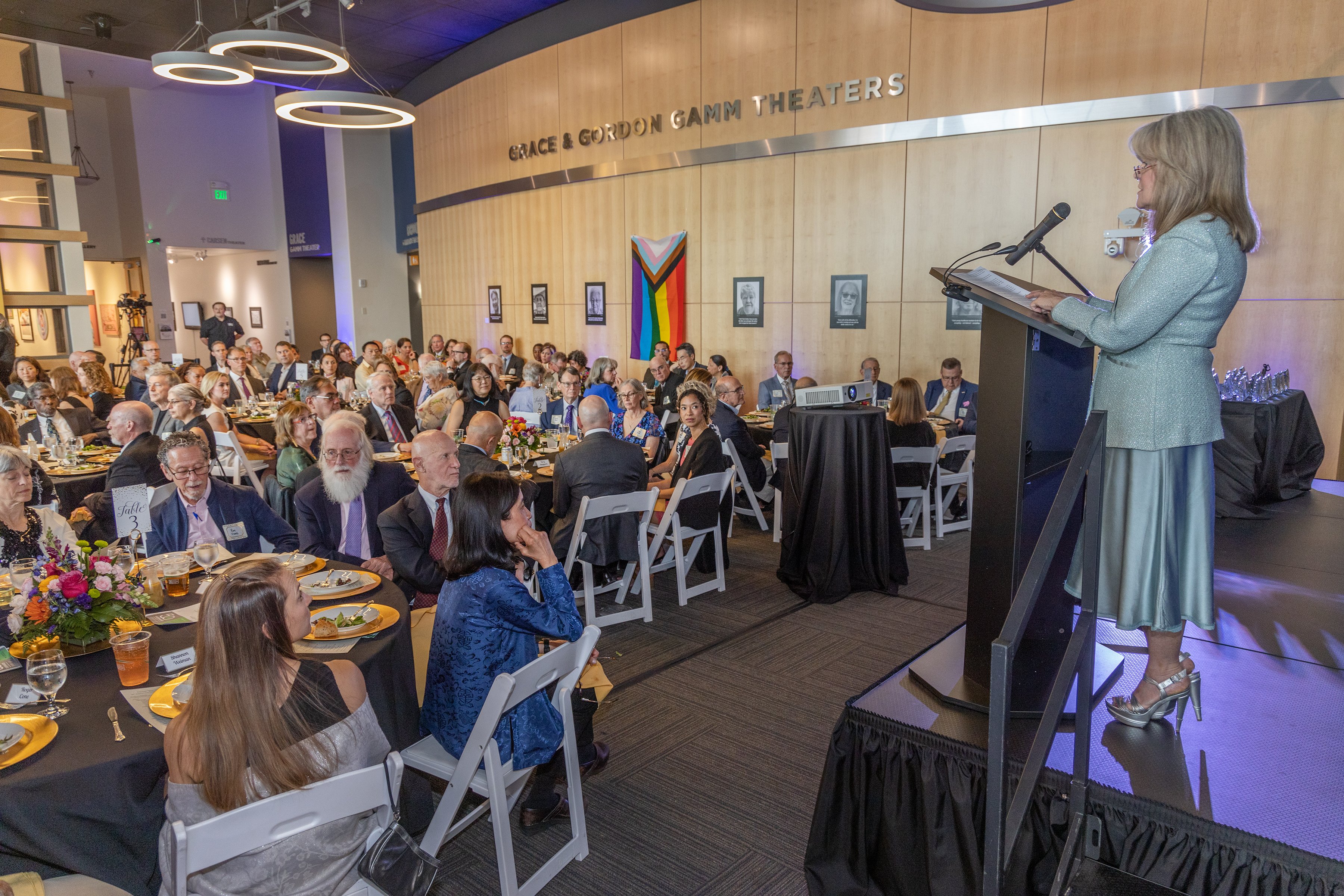 CEO & President Dr. Debbie Johnson addresses the Keystone Symposia community, featuring scientific luminaries across diverse fields, from molecular biology to microbiology, neurobiology and oncology.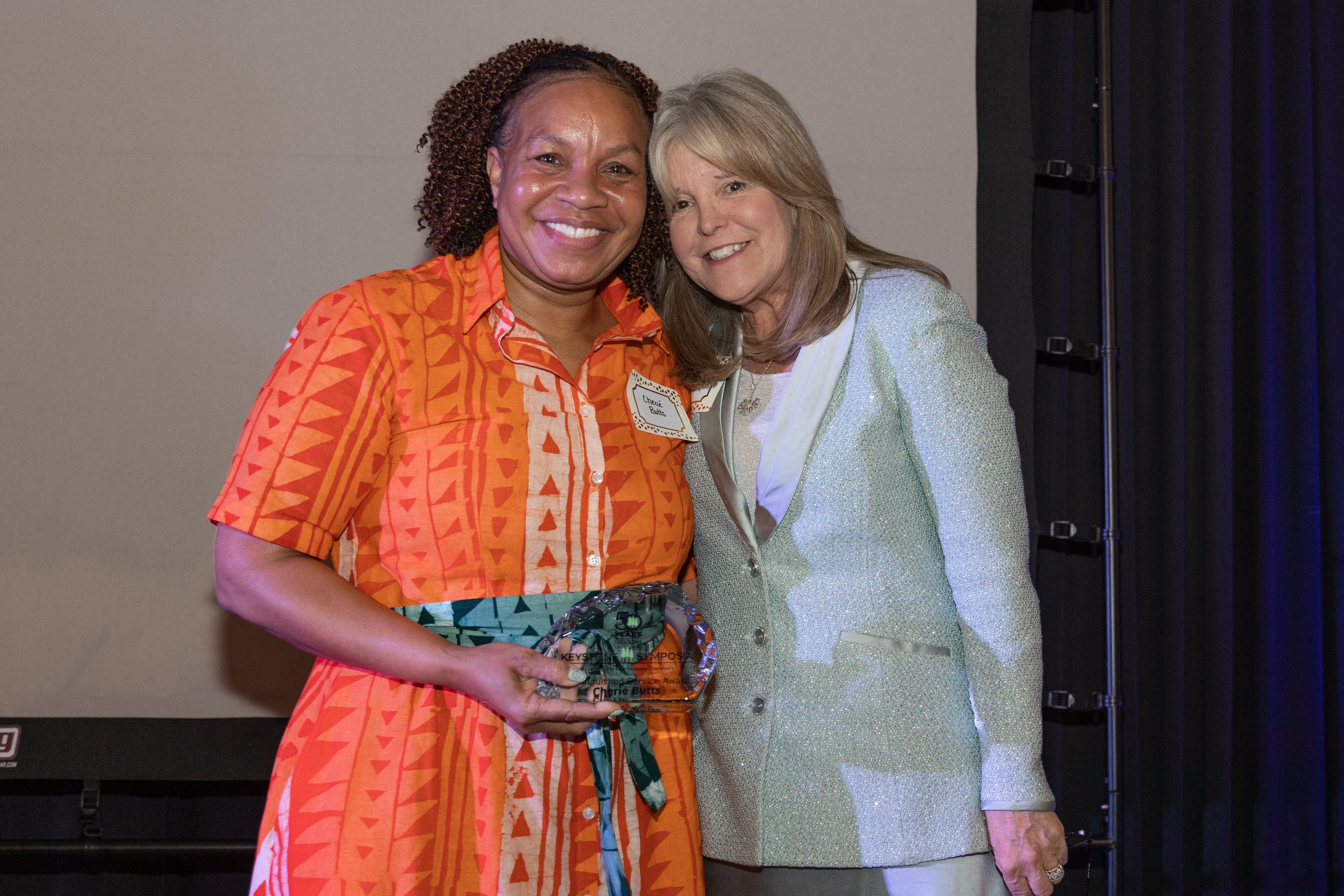 CEO & President Dr. Debbie Johnson congratulates Dr. Cherie Butts, who serves as a Keystone Symposia SAB and Board member, after moving up the ranks from the Fellow's Program.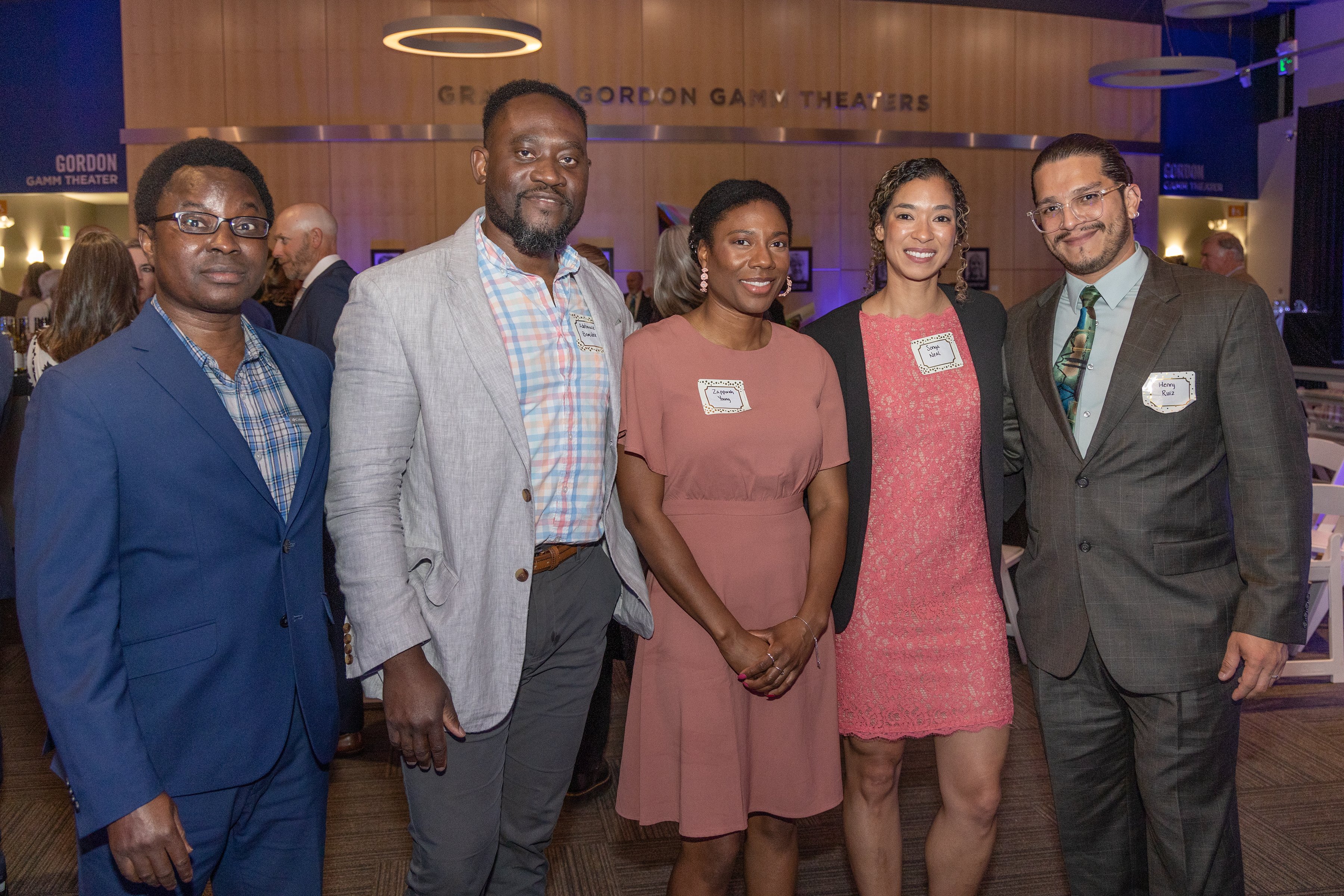 The Keystone Symposia Fellows (left to right) David Alagpulinsa, Adebowale (Wale) Bamidele, Zapporah Young, Sonya Neal, and Henry Ruiz celebrate the rich history of the organization, and our enduring commitment to the next-generation of a diverse biomedical workforce.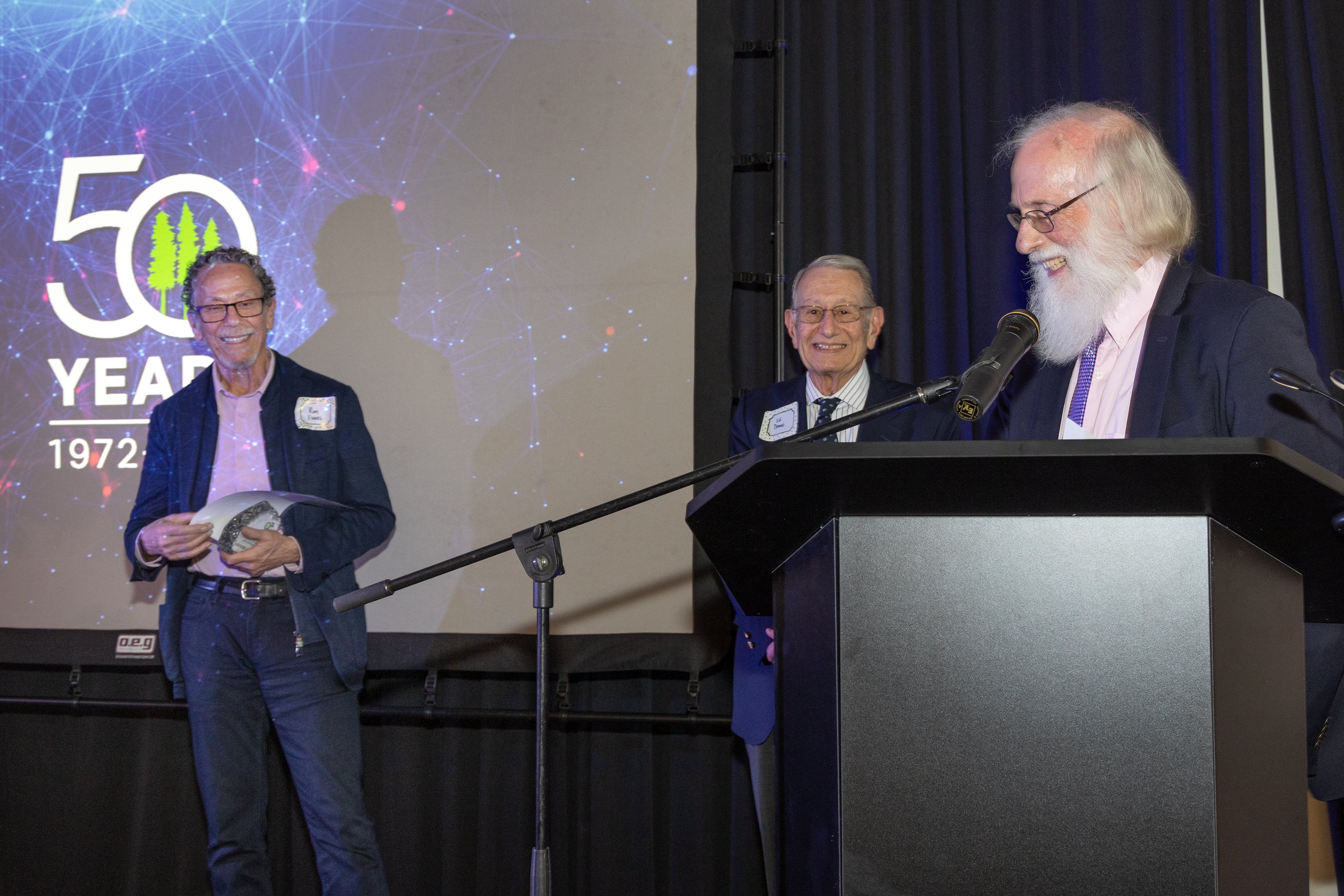 Tony Hunter Accepts the Golden Circle Award and talks about attending the FIRST Keystone Symposia back in 1972! Ed Dennis in the background, also an original attendee of the first meeting.
---
Looking Back...
The Keystone Symposia Gala marking 50 years of operations was a wonderful opportunity to reunite with friends and colleagues from Keystone Symposia's history, and to renew acquaintances with newer members of the community. Having attended my first meeting in 1980, organized my first symposium in 1982, joined the Scientific Advisory Board in 1986, and been continuously involved with its governance ever since, I have had the unique opportunity to interact with most of the luminaries involved with running the organization from its founding to the present day-- beginning with Fred Fox, the founder of the Symposia, through to the current officers.
Representatives of all phases of the Symposia's existence were present at the gala, uniting the community across decades and even generation. For example, I enjoyed reconnecting with two attendees in particular who I had not seen in nearly 20 years: Bill Rutter, a colleague I've known since my post-doctoral days at the University of Washington, who ran the first Keystone Symposia on transcription and served for 10 years on the original advisory committee during the UCLA days, and Chris Christofferson, who, as Chair of the Keystone Center Board personally negotiated the transfer of the Symposia from UCLA to Colorado. I am sure, like myself, they were pleased to celebrate Keystone Symposia's successes amongst old friends. I feel certain that Bill, Chris and even Fred did not envision what the Symposia would eventually become in either size or scope. I certainly didn't.
The Gala was also an opportunity to showcase the great depth and diversity of people who have made the Symposia what it is today. From busy academics and members of industry to hard-working staff, the accomplishments of the Symposia are a testimony to teamwork, dedication and persistence.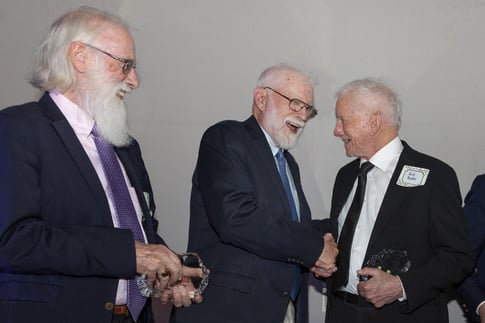 Ralph A. Bradshaw, Tony Hunter and Bill Rutter reminisce about old times while accepting their awards
This seems to be particularly well illustrated by the camaraderie I have enjoyed with two other of the Golden Circle awardees, Curt Harris and Ed Dennis. We were all involved in the separation of the Symposia from the Center, and were entrusted with stabilizing the newly independent organization, both operationally and fiscally. It was a time of stress and anguish accompanied by a great deal of uncertainty, and there were certainly times when we seriously doubted whether the Symposia would ever see its 50th anniversary. It is a tribute to the organization, and particularly to its goals and the quality of its programs, that it has not only survived through some difficult times (mostly recently the forced shutdown of face-to-face meetings during the pandemic) but also has continued to flourish.
The exchange of information and ideas nurtured by Keystone Symposia is central to the advancement of science. Fred Fox positioned Keystone Symposia to fill an important unmet need in biomedicine from the very beginning, initially developing it to bring together academic, industry and government scientists at all levels of training and experience right from the outset (Bill and Chris are excellent examples of this melding of professions as both had distinguished careers in academia and industry).
This mixing of minds has remained a hallmark of the Symposia and is a really unique feature of this organization. Keystone Symposia conferences have always been characterized by a spectrum of participants - from beginning graduate students to Nobel laureates – more than 500,000 in its 50 year history.
It is impossible to calculate the value that these interactions have generated but it is safe to say that it has strongly affected biomedical research worldwide in a highly positive way. It was certainly a compelling reason to celebrate its 50-year history and share its successes with so many of its friends and supporters, who traveled from far and wide to honor the rich history of the organization and the role it has played in so many lives.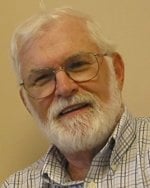 Ralph A. Bradshaw has served continuously on the governing bodies of Keystone Symposia since 1987, including as Chair of the Executive Committee (1991-1994) and treasurer (1997-07), and is currently an emeritus member of the Board of Directors. He has attended/ organized over two dozen Keystone meetings. His research interests have focused on the structure and function of proteins, with particular attention to polypeptide growth factors and their receptors, signal transduction & proteomics.
Read more by Ralph A. Bradshaw on Keystone Symposia's history & evolution:
---
Looking Forward...
Since the very beginning Keystone Symposia's mission has held true to key tenets including:
integrating diverse voices and perspectives into the conversation to catalyze novel and disciplinary scientific advances, insights and innovation

supporting the next-generation of scientists and nurturing their growth




nucleating communities around emerging topics that hold the promise of tomorrow's scientific and medical breakthroughs
These tenets will continue to be our guiding compass moving forward, but we will continue to evolve new and creative means of achieving these goals. We will expand upon current programming to better support these communities moving forward, adapting to new challenges and opportunities that the future will bring. We have developed three key initiatives, founded on these principles, to drive our efforts in the years to come:
1. Diversity in Life Sciences: Diversity is of utmost importance to our mission, including diversity across gender, race/ethnicity, geography, career stage, sectors, and disciplines. We aim to be a champion for diversity in the life sciences and biomedical workforce by ensuring all voices are heard and included in scientific programming, and represented across all levels of the organization, from speaker line-ups to meeting organizers, Scientific Advisory Board members and Board members.
In addition, we aim to bolster diversity in the workforce by launching and expanding programs to provide underrepresented (UR) scientists, and those from low- and middle- income countries with scholarships, mentorship and training that will empower them to achieve their career goals and attain leadership positions. Find out more about our flagship Fellows Program! We are also launching health disparities workshops within our conferences to address issues of inequity in research and medicine, across disciplines ranging from cardiovascular health, to obesity, diabetes, climate health and more! Find out more here. (More to come on this in the December Newsletter, so stay tuned!)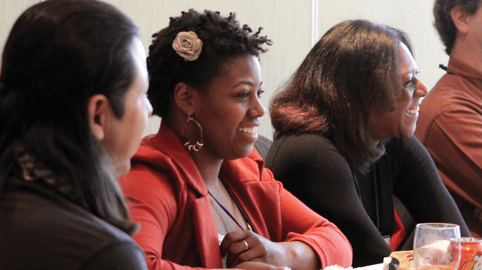 2. Emerging Minds: Investing in the next-generation of scientists is how we will truly make a lasting and transformative impact on science and medicine, by providing them with the skills and inspiration to drive research in new directions. Our scholarships programs provide funding for students and post-docs to attend our conferences, where they experience unique and powerful career-development opportunities, including the opportunity to network with field leaders and present their work alongside Nobel laureates, and connect with job opportunities to launch the next stage of their careers. We also offer career roundtables at all of our conferences, for essential mentoring and career advice from academic and industry leaders regarding career trajectories and strategies for success.
3. Emerging Topics: As science evolves, new areas develop and topics emerge that at first start small, but eventually grow into arguably the most impactful areas of science and medicine. Examples include HIV, Cancer Immunotherapy, Microbiome, Neuroimmunology, CRISPR and most recently COVID, Long COVID, nanomedicines and AI among many others. It is essential to support these nascent topics when they are small, to catalyze connections and collaborations that enable the field to advance, grow and ultimately fulfill their potential. We strive to create a home for these promising areas of research, and to foster their growth. To this end, we are launching a new 2-day meeting format to further support these emerging communities and forge new frontiers in science and medicine.
Keep the tradition going for another 50 years!
Donate to support Keystone Symposia's programing for Diversity in Life Sciences, Emerging Minds & Emerging Topics Initiatives

Return to the September 2023 Keypoint Newsletter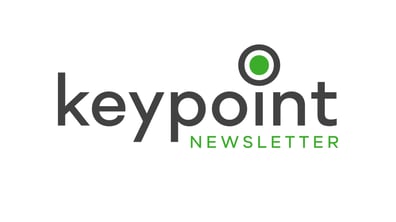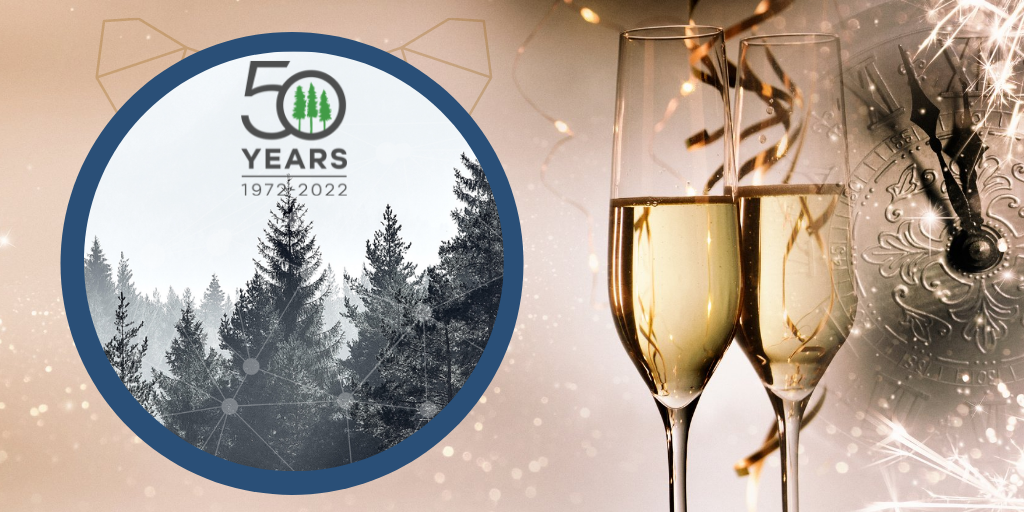 newsletter
In June, we held our long-awaited 50th Anniversary Gala (after being postponed by the pandemic),...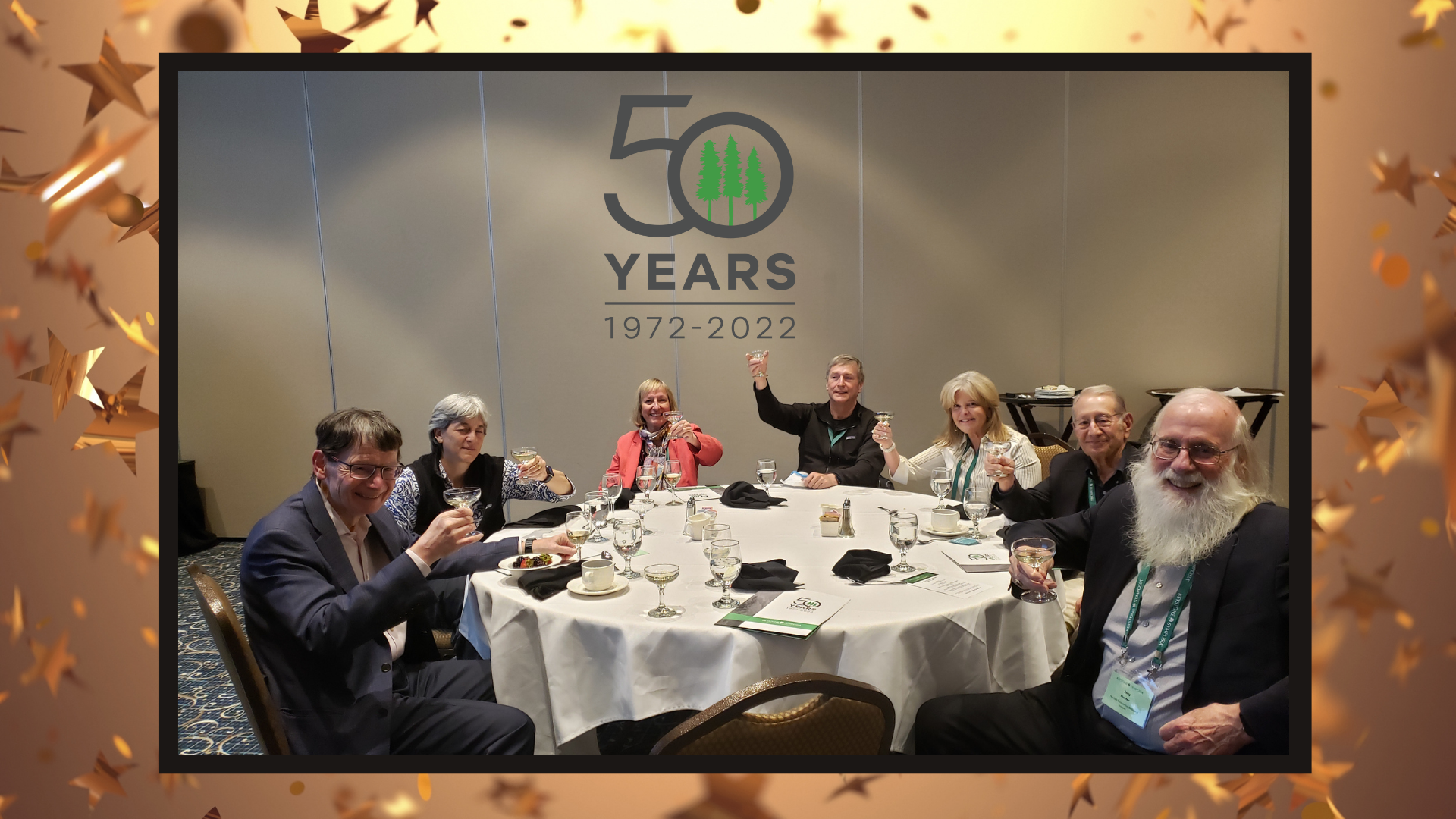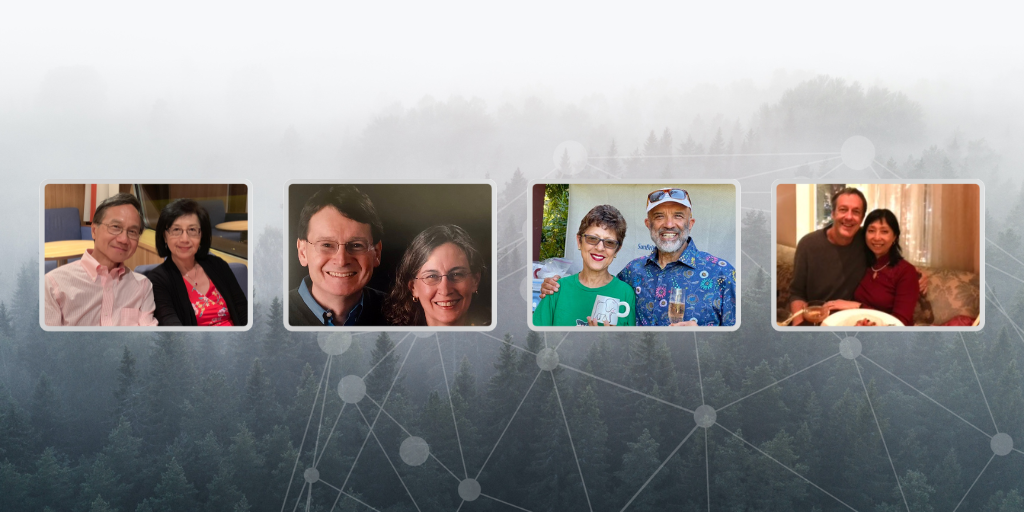 scholarships
One of the best ways to make a lasting impact on the scientific community is through an endowed...