Michelson Philanthropies & Science Prize for Immunology ePanel
On April 11, we celebrated the 2022 recipients of the Michelson Philanthropies & Science Prize for Immunology in this live ePanel event. This international prize focuses on transformative research in human immunology, with trans-disease applications to accelerate vaccine and immunotherapeutic discovery. The prize is intended to encourage and support young investigators from a wide range of disciplines and is awarded annually based on work done in the past three years.
The event featured cutting-edge research in cancer immunotherapy, vaccinology and immunology, and how modern tools and technologies can be deployed for real-world clinical and public health impacts. Following welcome remarks by Dr. Gary Michelson, Michelson Philanthropies founder and co-chair, Bill Moran, Publisher of AAAS/Science, Holden Thorp, Editor in Chief of AAAS/Science, and Seth Scanlon, Editor of AAAS/Science, the recipients presented their award winning research and participated in a Q&A with the audience.
Read about the awardees and their research below
Watch the ePanel Recording On Demand Below
Applications for the 2023 Michelson Philanthropies & Science Prize for Immunology open on May 1.
For more information, visit:
https://www.michelsonmedicalresearch.org/michelson-philanthropies-science-prize & https://www.science.org/content/page/michelson-philanthropies-and-science-prize-immunology
#MichelsonPrizes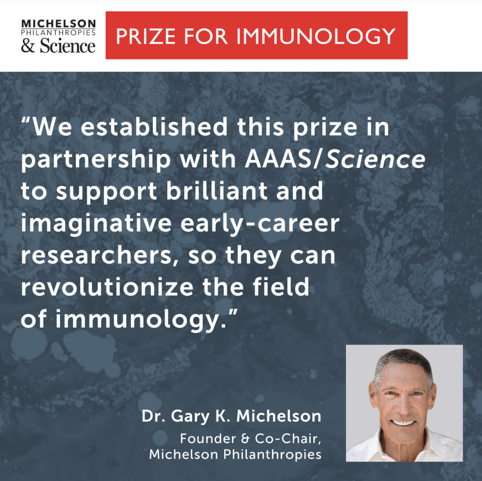 ---
Michelson Philanthropies & Science Prize for Immunology Awardees
Grand Prize Winner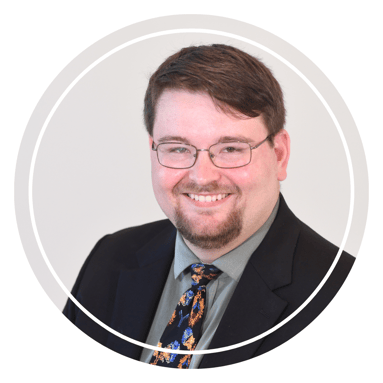 Aleksandar Obradovic, PhD
Department of Systems Biology, Columbia University Irving Medical Center, New York, NY
Precision Immunotherapy: A Mechanistic Approach to Overcoming Treatment Resistance
Cancer immunotherapy harnesses the anti-tumor immune response broadly and to great effect across many tumor types—nevertheless, many patients remain non-responsive, with limited predictors of treatment resistance. Efforts are underway to identify combination therapies that may improve outcomes. I describe here a mechanistic systems biology approach to prioritizing combination therapy drug candidates. This approach leverages protein activity inference and drug sensitivity prediction algorithms as well as single-cell-resolution RNA-sequencing data to identify cell populations associated with treatment resistance in different tumor types as well as key regulatory proteins and drug vulnerabilities of those populations. This research has enabled discovery of resistance mechanisms and candidate therapeutic targets across numerous tumor types, and represents an opportunity to tailor precise combinations of complementary drugs in patients non-responsive to current treatments.
Aleksandar Obradovic received undergraduate degrees in Biology and Computer Science from Columbia University, where he continued as an MD and Ph.D. and received his Ph.D. in the Department of Systems Biology in 2021. While working to complete his MD training, Aleksandar started his laboratory with an appointment as an associate research scientist in the Department of Medicine at Columbia in 2022. His research focuses on the development of innovative approaches for the analysis of single-cell transcriptional, T cell receptor sequencing, and spatial data, which are applied toward an improved understanding of immunological mechanisms of checkpoint inhibitor resistance and the discovery of synergistic combination therapies.
Finalist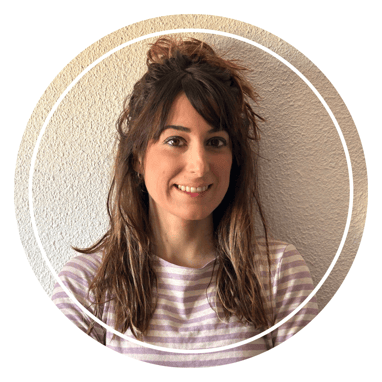 Roser Vento-Tormo, PhD
Wellcome Sanger Institute, & Centre for Trophoblast Research, University of Cambridge, Cambridge, UK
Decoding foreign antigen tolerance: Cell atlases of human tolerogenic milieus guide transformative immunotherapies
In our laboratory, we study how the human immune system develops and acquires its function, and how these processes are influenced by the surrounding cellular microenvironment. We use genomics and imaging tools to reconstruct physiological tolerogenic milieus, such as the placenta and the testis, and generate "cell atlases" of these organs. By developing and using bioinformatics and machine learning tools to interrogate these tissue maps, we discover novel cellular states and regulatory programs driving immune tolerance. Finally, we leverage this information to precisely engineer stem cells into immune cell subtypes that can overcome the immunoregulatory obstacles, such as those found in the tumor microenvironment.
Roser Vento-Tormo received a BS from the Polytechnic University of Valencia and a Ph.D. from the University of Barcelona. After completing her postdoctoral fellowship at the Wellcome Sanger Institute, Vento-Tormo started her laboratory there in the Cellular Genetics program in 2019. Her research focuses on understanding how cell-cell communication and the tissue microenvironment regulate cell identity and function in the context of immunity and development.
Finalist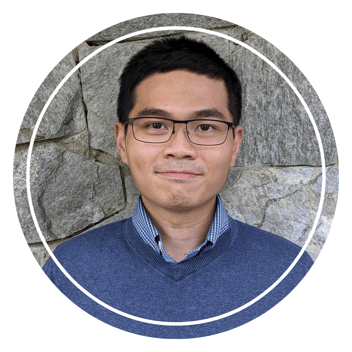 Antibody Biology Unit, National Institute of Allergy and Infectious Diseases, National Institutes of Health, Bethesda, MD
Searching for common ground: The conserved coronavirus fusion peptide is a target of broadly neutralizing antibodies
Initially linked to only mild disease, coronaviruses have been revealed in the 21st century to be capable of causing severe disease and death. To develop new tools that combat different coronaviruses, we performed an epitope-agnostic screen on B cells from COVID-19 convalescents to identify monoclonal antibodies that target multiple coronaviruses. We identified two antibodies that neutralized both alphacoronaviruses and betacoronaviruses, including all SARS-CoV-2 variants of concern. Biochemical and structural assays revealed that both antibodies bound to the fusion peptide, which is highly conserved in all four coronavirus genera. Importantly, the antibody COV44-79 limited SARS-CoV-2-mediated disease in a hamster model. These findings highlight the fusion peptide as a candidate for the development of vaccines and monoclonal antibodies that aim to combat a wide variety of coronaviruses.
Joshua Tan received his BS from Monash University and a Ph.D. in Infection, Immunology, and Translational Medicine from the University of Oxford. After completing his postdoctoral fellowship—which was jointly performed at the Institute for Research in Biomedicine, Bellinzona; the University of Oxford; and the National Institutes of Health (NIH)—he started his laboratory in the National Institute of Allergy and Infectious Diseases at the NIH in 2020. His research focuses on understanding the human antibody response to infectious pathogens—including Plasmodium falciparum, severe respiratory coronavirus 2 (SARS-CoV-2), and Mycobacterium tuberculosis—through the study of monoclonal antibodies.
to see the awardees present their work and ask your questions live!

---